TEXTILE FACTORY

Private commission
Feasability study for the transformation of an old textile factory in Balgach, Switzerland
2020



This study proposes new ways to transform an obsolete textile factory at the Rhein valley in Switzerland. The factory has an important role in the history of production of the valley for having invented a specific textile on high demand during the 20th century. The original machines, archives with the sewing threads and punched cards are still present and are to be thought of as part of the transformation of the factory.



It consists of a complex of buildings in dialogue to eachother, from the spaces dedicated to production to the ones that contain domestic functions. The spaces that play a central role in the transformation proposal are the machine halls, the different types of rooms dedicated to post-production, the four-story attached building that is the residence of the owners, a separated two-story building and a wide green open space around the complex.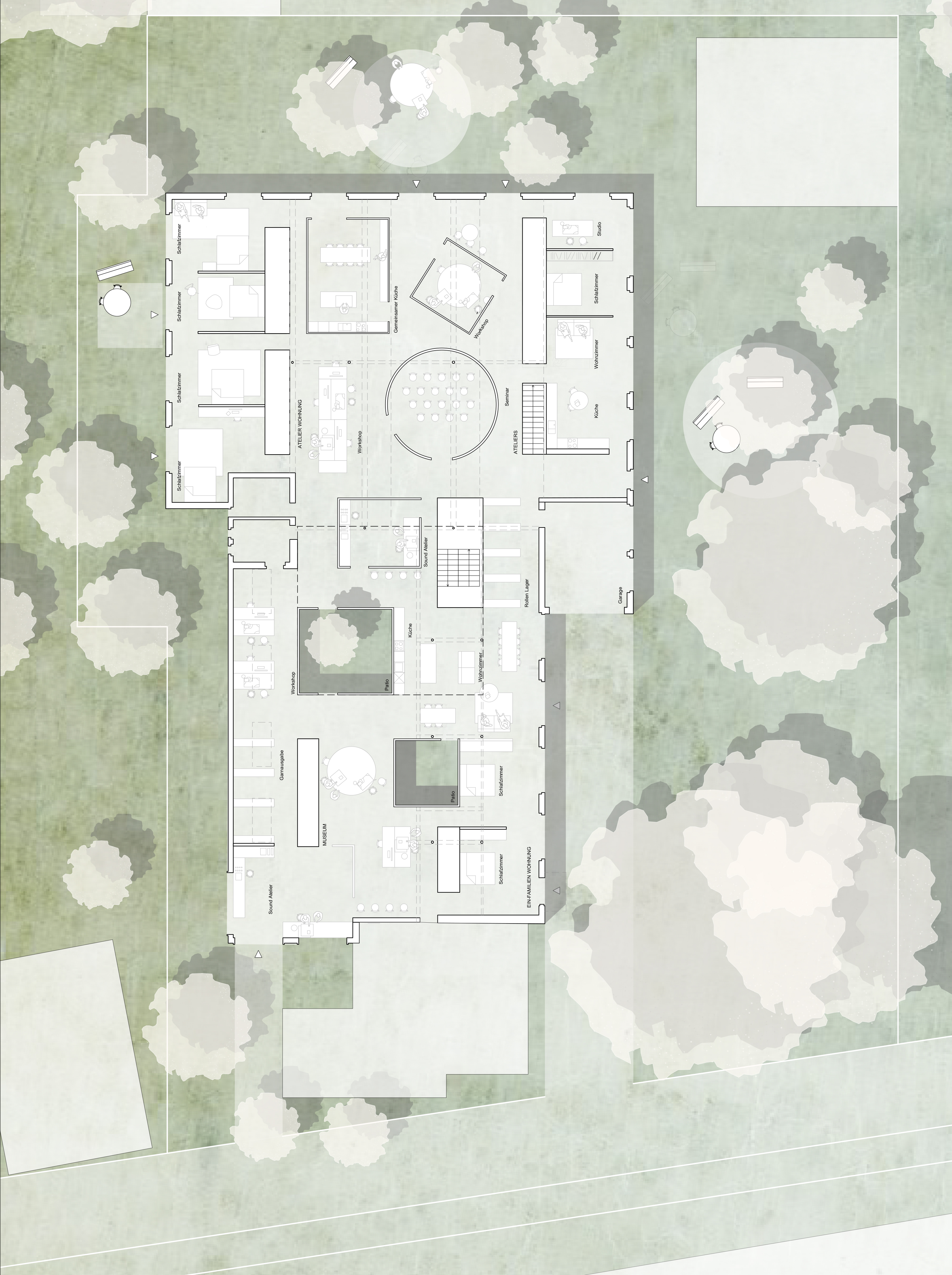 New uses - The aim of the proposal is to provide different kind of mixed-use spaces that include working, housing and common spaces in order to attract a diverse profile of tenants and therefore, to create an heterogeneous community. A new set of mixed uses that consists of different types of housing, workspaces, common spaces and museum will activate the different spaces of the factory.

Different types of housing and working spaces are proposed, ranging from a more conventional spaces to combinable units that allow flexible and customizable spaces.

The variety of types of housing has been accurately done to adress to diferent kinds of public, from individuals, young couples, families or collectives. Another typology of housing is added as an extension of the rooftop with views to the mountains. The kitchen, the laundromat and the generous green areas work as common spaces. One part of the main machine is to be transfromed into museum.

An economic strategy has been developed to think the transformation of the factory in stages: the first part to be transformed will generate the revenue which can serve as an investment to transform the next. The proposal can be understood as a refurbishment of the existing, except for an entire new part to be added at the rooftop.

©rotative studio